As the technology gets easier and more convenient day by day, one of the greatest gifts of technology is the VR or virtual reality technology. The virtual reality allows the user to live in a computer-simulated environment. The user can interact with the virtual environment through standard input devices or through multimodal devices. One of the multimodal devices is the Virtual Reality headset.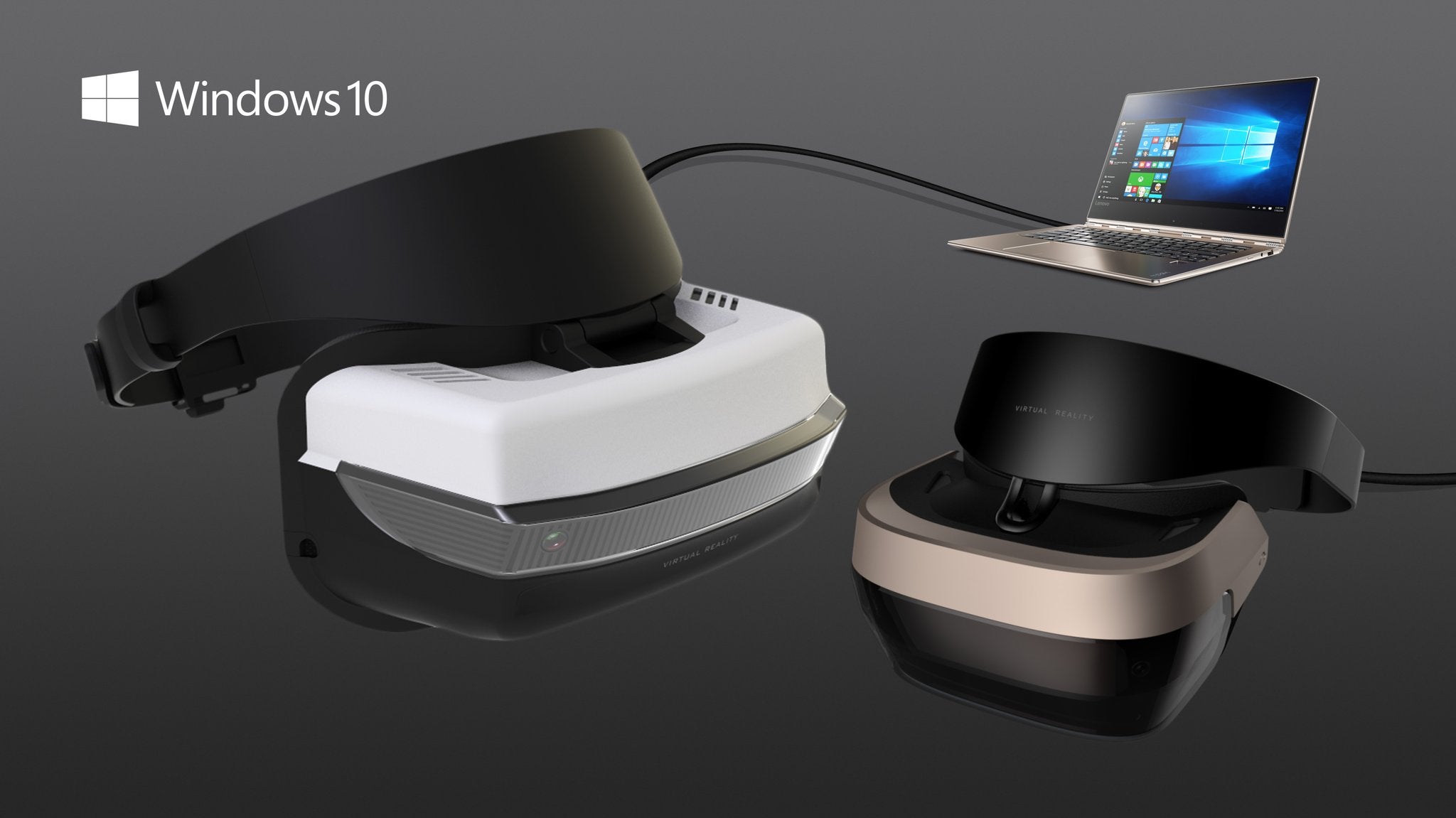 Virtual Reality headset is a device which is mounted on the head. Virtual Reality headsets are used for gaming, simulated training and other applications etc.
Background:
The first-ever virtual reality headset was invented in 1994 named Forte VFX1. Later in 1997, Sony released Glasstron which was another milestone in the technological history. These Virtual Reality headsets allowed the users to play action games in the virtual world. Although these devices failed commercially due to lack of technology.
But from 1997 till date, from VFX1 to the Oculus Virtual Reality technology, the devices have improved and now provide a high definition display which makes the virtual feel real.
Virtual Reality headsets for windows 10:
Virtual reality technology has become really commercial these days, several virtual reality headsets are available in the market. Many tech  companies have introduced their own virtual reality headsets, few of the top virtual reality headset devices by different companies are given below:
Microsoft Hololens
Oculus Rift
HTC Vive
Sulon Q
Meta 2 Development Kit
The Microsoft Hololens:
Known as project Baraboo. Hololens is one of the first devices which were supported by the windows 10. The first development edition was shipped on 30th March 2016,  In October 2016 Microsoft publicized the Hololens that would be available on pre-order in Austrailia, New Zealand, Ireland, Germany, France and the United Kingdom.
The Hololens is manufactured by Microsoft having an introductory price of $ 3000, Hololens has an Intel 32-bit CPU .there is 2 GB RAM and 1 GB HPU RAM and  64 GB memory available in the Hololens. Hololens has no touchpad and has a camera 2.4 MP. There is 2.3-megapixel wide stereoscopic head-mounted display.
Oculus Rift:
Oculus Rift is a virtual reality headset manufactured by Oculus VR under the Facebook Inc. Oculus Rift was released on 28th March 2016. Oculus Rift is first of the generation. The introductory price of oculus rift virtual reality is $599.99. Oculus Rift is a type of virtual reality headset. It has a display of PenTile OLED.  Having graphics of 2160 x1200(1080×1200 per eye) @ 90 Hz. Oculus Rift has 3D integrated audio headphones which can be user removable/exchangeable. Oculus Rift can be connected through HDMI 1.3 , USB 3.0 and USB 2.0 . This amazing thing weighs only 470 grams.
HTC Vive:
Developed by HTC and Vive Corporation is a Virtual reality headset. Room Scale tracking technology is used by these headsets. HTC Vive was unveiled in Mach 2015 and the first consumer version of the virtual reality headset was released on 5th April 2016.
HTC Vive is a type of room scale virtual reality headset. The display technology used in HTC Vive headset is PenTile OLED. It supports the resolution of 2160×1200 (108×1200 per eye resolution). The device has a refresh rate of 90 Hz. The field of view in HTC vive is about 110 degrees. HTC Vive supports input of video, data, and Bluetooth. The device weighs 470 grams which were previously 555 grams. It supports operating systems such as Microsoft Windows in addition of Linux support and also macOS. It can be connected with HDMI 1.4 and USB 3.0. HTC Vive has a 3.5 mm audio jack for headphones and built-in microphones.
Sulon Q:
Created by Sulontechnologies,Sulon Q is a virtual reality headset. The headset was unveiled in 2016. It is operated by Microsoft Windows 10. The device has AMD FX-8800 P processor with cTDP of 35 watts in its CPU. It has a memory of 8 GB memory and supports the storage of 256 GB SSD. It has an OLED  display with a resolution of 2560×1440 pixels. It has sensors such as magnetometer,gyroscope, and accelerometer. The device can be connected through Bluetooth 4.0 and Wifi 802.11ac.
Meta 2 Development Kit:
The predecessor of Meta 1, is a PC supportable virtual reality headset. The kit is available for pre-orderat  $949.00. The headset has a resolution of 2560 x 1140. It has a refresh rate of 60 Hz. It has a 90 degrees field of view. It has a 720P front facing camera.The device can be connected through 9 foot cable for video, data, and power (   HDMI Version 1.4 b).